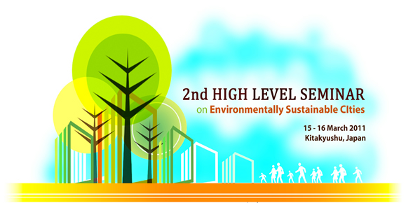 Date
15–16 March 2011
Venue
Kitakyushu International Conference Centre
Kitakyushu City, Japan
Organisers
Government of Japan
Government of Australia
Government of Cambodia
Government of Malaysia
Government of Thailand
March 15-16, 2011 marked the second High Level Seminar on Environmentally Sustainable Cities (HLS ESC) organized by the governments of Japan, Australia, Cambodia, Malaysia and Thailand in Kitakyushu City, Japan.
The two-day meeting brought together representatives of environment ministries, local governments, international organizations, NGOs, academe and front-line experts on urban environmental management issues in Asia to discuss the ongoing activities on ESC at the city level and to foster collaborative actions between stakeholders to achieve ESC under the East Asia Summit.
Topics of interest related to ESC such as solid waste and urban air quality management and sustainable city planning as well as reports on the achievements in environmental improvement in Asian cities and discussions on the role of development partners were featured.
Strong support was given for the ASEAN ESC Model Cities Programme which was in the planning stages at that time.
A full list of documents can be found on the documents page, the programme with downloadable presentations can be found here.