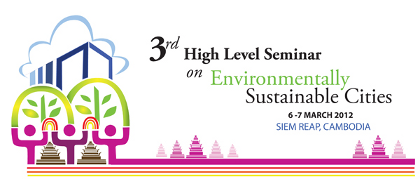 Date
6–8 March 2012
Venue
Angkor Era Hotel, Siem Reap, Cambodia
Organisers
Government of Cambodia
Government of Japan
Government of Australia
Government of Thailand
ASEAN Working Group on Environmentally Sustainable Cities   
March 6–8, 2012 marked the third High Level Seminar on Environmentally Sustainable Cities (HLS ESC) organised by the Governments of Cambodia, Japan, Australia and Thailand, and the ASEAN Working Group on ESC in Siem Reap, Cambodia.
The three-day meeting brought together representatives of environment ministries, local governments, international organisations, NGOs, academe and front-line experts on urban environmental management issues in Asia to discuss the ongoing activities on ESC and to foster collaborative actions between stakeholders to achieve ESC under the East Asia Summit collaborative framework.
The Seminar was also jointly held with the Grand Regional Seminar for the ASEAN ESC Model Cities Programme, an initiative developed from the recommendations of the 1st HLS ESC.
Thematic Sessions were held on Solid Waste Management, Urban Water and Sanitation as well as Sustainable, Low-Carbon and Green Cities.  Local governments reported their achievements under the Model Cities Programme and other ESC initiatives.
Other topics addressed through Thematic Sessions were Public-Private Partnerships, Adaptation for Cities and Sustainable Low-Carbon Scenario Development.
Delegates discussed potential ways forward and opportunities for collaboration. There was strong support for sustaining the HLS platform and extending the Model Cities Programme into the second year, expanding the scope of the project to include more cities and activities.
A full list of documents can be found on the documents page, the programme with downloadable presentations can be found here